Daniel Yasoshima, iQ 2018, YouCOMM
"I participated in iQ in 2018, back when I was a biomedical engineering student, and launching a business never even crossed the realms of possibility in my mind. It was all about being at the right place, at the right time, with the right resources (iQ) that made it all possible. Reflecting on these times after iQ, I now realize just how much my team was truly given the priceless opportunity to recognize the commercial potential of an idea, and how to take that idea and develop it into something meaningful.
It is hard to believe that it all went by so fast. In just one summer, I learned way more than I ever thought I would – both personally and professionally. I was challenged each and every session, forced to be in uncomfortable positions, and constantly driven to think outside the box. At the same time, iQ's environment has always been super encouraging. Participants are given the chance to formally and informally interact with mentors and other entrepreneurs, learning lessons from each other and guiding each other to succeed. I still underestimate just how much impact this program has had on me and YouCOMM LLC. Our business simply would not exist without it."

Islam Mosa, iQ 2018,

VoltXon Inc.
"After a few years as a research scientist, Innovation Quest was my first and my most valuable introduction to entrepreneurship. I was surprised to find myself between a vast group of seasoned mentors who care so much about my success and offering their help, time, and connections to help me grow. In fact, I met my current business partners and collaborators during innovation quest and I'm very glad I'm part of this big family."

Stephen Hawes, iQ 2016, Atlas Arm "The IQ Incubator can only be described as intense. Throughout the course of many mentally-taxing weekly sessions, I was forced to question not only the structure and approach of my idea, but about why I want to be an entrepreneur and if I'm really invested in building my own company. Fundamental ideas I had about my concept company were proved completely wrong. My ego got bruised. I got discouraged. I worked my ass off. But I learned more in my IQ experience than I have in any college class I've ever taken, and I wouldn't trade that for anything.
Most of all, what I learned from IQ is the importance of doing. You can sit in Starbucks sipping an overpriced latte and writing a business plan all day long, but until you actually act on these thoughts, you don't have much. "Acting" can mean making a prototype, doing market research, talking to your target demographic, researching competitors, just to name a few. The important thing is that you validate your idea in the real world before diving in completely and investing serious time and money into it. This is something I really needed to be told. I've put the cart before the horse for almost all of my past projects, and end up making something no one wants or needs. By approaching a new project in the way that the IQ Incubator taught me, I'm orders of magnitude more effective and efficient as an entrepreneur."

Elizabeth Pouya, iQ 2016, Protectiscope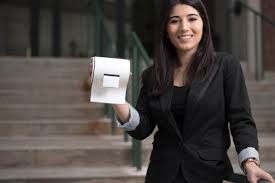 "I applied to iQ and attended Workshop 3 on a whim after being referred by a friend. This was 1-2 months after I had attended a healthcare conference and developed a prototype to solve an unmet need and that's all it was. I had no business plan, no funding, and no idea what my next steps were. I attended the subsequent iQ workshops where my slight interests in beginning a startup were only heightened by Dr. Dino and Keith Fox's strong will to mentor iQ participants. Fortunately, I was selected for the Summer 2016 InQbator and this was the first program/incubator I had participated in as a naïve and very early stage entrepreneur wannabe. I was committed to attending iQ every week because these sessions will force you to public speak in front of mentors (CEOs, professors, and more professionals) and really enable your confidence in beginning a startup. I received TONS of information pertaining to legal and financial aspects of starting a business, as well as downright fundamentals of what every entrepreneur should know before taking leaps. Some of these leaps may include: getting an investment, prototyping, networking, attending trade shows, etc. iQ really answers all of your questions and best of all, it introduces you to the exclusive entrepreneur network in CT where you can continuously connect with people to get your startup going.
UConn is fortunate to have such a great program for beginner entrepreneurs and I would recommend anyone with a newfound product/company idea to attend the workshops and apply! Dr. Dino, Keith Fox, and the whole mentor group will guide you through the rest."
Dr. Tim Shannon, iQ Mentor
"The iQ program is a gem for the University of Connecticut. Under the leadership of devoted alumnus Keith Fox and Rich Dino, this program has been brilliant since inception and continues to grow and impress each year. It is a spectacular opportunity for entrepreneurial minded students to connect with great experienced mentors to develop, refine and launch business plans for their start-ups. The students are fabulous and can compete with any students anywhere. It is an honor to be part of this program that I think is first class."